Are you coming to France for romantic purposes? Did you book an elopement or honeymoon shooting? Are you having an intimate wedding in a French Château? I might have something for you!
Have you thought of paper flowers instead of fresh flowers? 
it is an aesthetic alternative: you choose the flowers, the colors, the sizes…no matter the season!  You want peonies in winter? Anemones in summer? This is possible!
this is a "green" alternative: flowers won't come from South Africa nor Eastern Europe, because they are all handmade (only the paper is purchased in Italy!). Also, paper flowers don't wither, and you can keep them for years !
this can be a cheaper alternative:  the cost might appear higher than for fresh flowers, but if you think about it, you will keep them much, much longer ! Moreover, you will have the opportunity to have bespoke flowers: adapted to your event, adapted to you.
Different ways to use and display paper flowers
 

Bouquet & accessories
– bride's bouquet
– bridemaid's bouquet
– boutonnière
– wedding crown, comb…
Scenography
– arch
– table display
– flower wall
– aisle decor Bridal bouquet
No wedding gown is complete without a bridal bouquet ! Paper flowers bouquet can be a very trendy alternative to the fresh flowers bouquet !  
Super-size your
wedding flowers
What if we mega-size an actual flowers instead of a flower bouquet? It will be as much if not more instagramable than a bouquet ! Sometimes, the bigger is the better !  ( From €80,00 )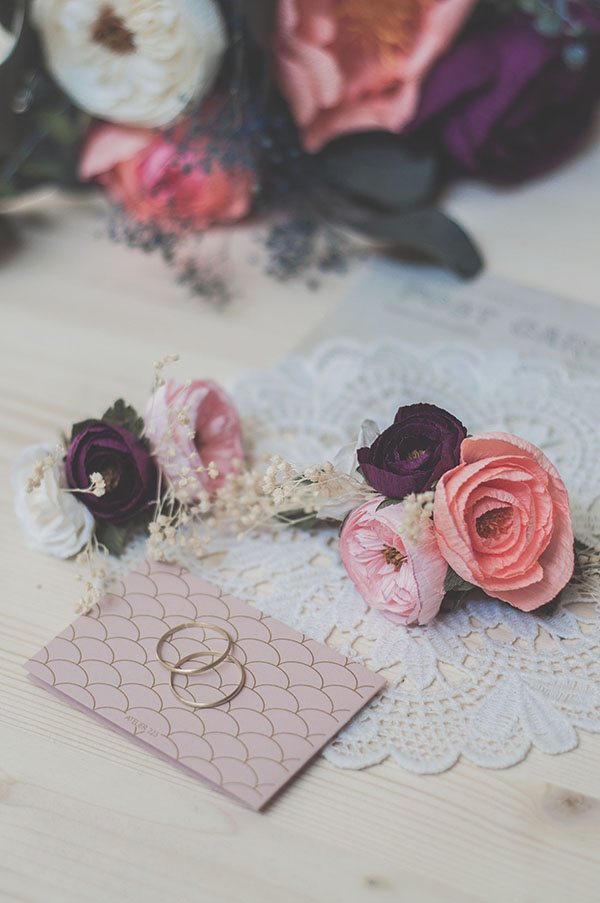 Accessories
Small details always make a difference, but I guess you know it already !
And that's why I handcraft small flowers to finalize your hairstyle! Combs, crowns and boutonnières can be garnished with dried or stabilized flowers/foliage.
Rentals
You can rent giant flowers, flower walls, arches…. please contact me to know what's available!